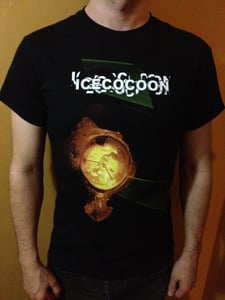 $

24.00
The first icecocoon T-shirts are finally here. The design is taken from the artwork panel of "The end of August". It is a Photo Owen took of a clock recovered from Hiroshima with the hands melted to the face at the exact time the bomb hit. It represents emotional ground zero, when in life, trauma is so severe that time seems to stand still.
Available both Mens and Womens cuts in a range of sizes.
If you receive a garment that doesn't fit, you can send it back to exchange for another size or we will give your money back.
Free shipping as always!